This course (WOOD) is part 3 of a 5-part foundational Five Element Chinese Medicine course series
In this course you will learn the foundation of Five Element Chinese Medicine theories, an ancient healing modality dating back 2500 years of recorded history, that continues to be incredibly useful in today's fast-pace and high-stress modern society.
Back pain, sleep issues, aches and pains, migraines and headaches, digestive issues, anxiety, frustration, stress are very common symptoms of the modern era. 
In this course we cover the root cause(s) of those symptoms (and many others) to help understand why they appear in the first place, and give you easy-to-use tools to help address them from day one, so that they can become more manageable, and gradually lessen in intensity, severity and duration.
This course will give you the road map to start understanding the complexity of the body in easy and digestible terms, trace back the root cause of seemingly unrelated issues and symptoms, and address them at the source.
The course embraces on a journey that will take you through the various phases of Nature to help you understand how your body (physical, mental, emotional/spiritual) works with, connects and heals from Nature, using simple, effective and easy-to-apply healing techniques.
In this course you will learn
- the basic concept of Yin and Yang (duality)
- the laws of Five Elements (Metal, Water, Wood, Fire and Earth)
- the body clock theory
- the relationship between the Five Elements and the five seasons
- the direct connection between to the Five Elements and the internal organs (Lung, Kidneys, Liver, Heart and Spleen)
- the symptoms related to each of the elements and organ systems
- the emotions associated with each organ system (sadness, fear, anger, over-excitation/anxiety, worries)
- and so much more!
After completing the course, you will be able to identify and address symptoms (physical and psychological) related to specific element(s) using specific acupressure and qigong techniques.
The information and techniques shared in the course are easy-to-follow, easy-to-understand and easy-to-apply. 
If you have a body, and you are interested in helping it heal, this course is for you.
Enroll today!
Luca Moschini is the founder and instructor of AcupressureThatWorks, an online education site for acupressure and qigong training. He has been practicing Chinese Medicine for almost 20 years. He has been practicing Chinese Medicine for almost 20 years. Luca teaches self-care techniques at Stanford University in Palo Alto, CA and is a former faculty member of Five Branches University of Acupuncture and Traditional Chinese Medicine in San Jose, CA.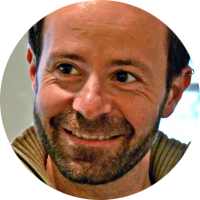 Medical Disclaimer
The information on this site is not intended or implied to be a substitute for professional medical advice, diagnosis or treatment. All content, including videos, text, graphics, images, classes, blog posts, email transmissions and information, contained on or available through this web site, as well as information material shared through our courses, lectures, webinars, is for general information purposes only.
AcupressureThatWorks makes no representation and assumes no responsibility for the accuracy of information contained on or available through this web site, and such information is subject to change without notice. You are encouraged to confirm any information obtained from or through this web site with other sources, and review all information regarding any medical condition or treatment with your physician. NEVER DISREGARD PROFESSIONAL MEDICAL ADVICE OR DELAY SEEKING MEDICAL TREATMENT BECAUSE OF SOMETHING YOU HAVE READ ON OR ACCESSED THROUGH THIS WEB SITE, OUR COURSES AND ANY OTHER INFORMATION YOU RECEIVED FROM ACUPRESSURETHATWORKS.
AcupressureThatWorks does not recommend, endorse or make any representation about the efficacy, appropriateness or suitability of any specific tests, products, procedures, treatments, services, opinions, health care providers or other information that may be contained on or available through this web site. ACUPRESSURETHATWORKS IS NOT RESPONSIBLE NOR LIABLE FOR ANY ADVICE, COURSE OF TREATMENT, DIAGNOSIS OR ANY OTHER INFORMATION, SERVICES OR PRODUCTS THAT YOU OBTAIN THROUGH THIS WEB SITE, OUR COURSES AND/OR OUR PRIVATE SESSIONS.